R&D team
With the development of QingYunShan Pharmaceutical for several years, we established an R&D technical team that majors in modern Chinese Medicine. The team has six members now, they support the development of plant extract and raw materials of health care products. Which lead us to establishing cooperative relationship with the academy.
——Product development: we research and develop new products for our customers and also provide technology service.
—— Production technology: we optimize process parameters and drive technology progress.



Technical advantage
* Removal of limited components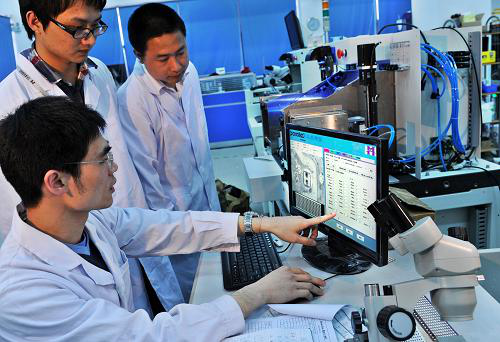 ——Removal technique of pesticide residue.
——Removal technique of limited metals.
——Removal technique of ash content.
* Secondary development of technology
——Solve the technical difficulties by making secondary development of declaration technology of health care products.
——Make optimization process and control parameters.
*Database
—— The datum include 300 kinds of common Chinese Medicine, it has 86 kinds of special Medicinal and Edible in details. The whole process of making the medicinal materials from the start to finished product is also taken in.
*Industry Chain
—— The company is concerned with the whole Industry Chain, it emphasizes communication with customers, share resources and have method balancing



R&D technology application
* Procurement
The procurement standard is decided by the analysis of the datum of lab test results and pilot plant test. It provides introductions for our providers about harvest, process, and pre-treatment of raw materials.
* production
Before the new product is put into production, we should get technology details from the manufacturing department and track and analyze the parameters in the whole manufacturing process. We solve the difficulties of production technology in form of a project management. As a result, it can reduce manufacturing cost and improve the quality of product.
*Quality
In the process of R&D, we should pay close attention to quality inspection and analyze the results based on quality standard, and then adjust the technology continually. If the process route is to be mature, we will improve quality standard and develop series product based on market demand.
* market
We should ensure that we combine the technology and market tightly in the system so that we can provide customers excellent service, good product and technology service during the sales process.