Mnufacturing Workshop
•Manufacturing Shop is divided into pre-treatment workshop, extraction workshop, refining-drying-packing workshop, preparation workshop, QC center, R&D department, storage area and auxiliary motivation area.•Complex preparation workshop is a two-storey building with an area of 3,500 square meters. The first floor is the preparation workshop and the D class cleaning area of 1,070 square meters.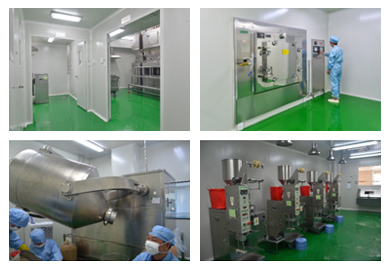 * D class cleaning workshop
1、Refining 2、Drying 3、Smashing 4、Mixing 5、Packing
•Sterilizing room has an independent air cleaning system
•Drinking water is from water works in Wengyuan County with stable quality
•Purified water system for the two reverse osmosis water unit uses 316 high-quality stainless steel pipe and pipe fittings for circulation loop connection.
•Electric power is 1565KVA
•Factory has boiler room

Production equipment
* Extraction equipment

1、Tank 2、Multifunctional distill tank 3、Enamel reactor
*Concentration equipment
1、Single-effect concentrator 2、Double-effect concentrator 3、Spherical concentrator
* Drying equipment
1、Freeze dryer 2、Microwave dryer 3、Vacuum dryer 4、Spray dryer

Productivity
The Factory has 3 product lines which processes 3,000 tons of raw materialsper year and produces 600 tons of finished product.
Three Product Lines:
1、Extract-concentrate product line 2、Formula granule product line 3、Refining-drying-packing product line